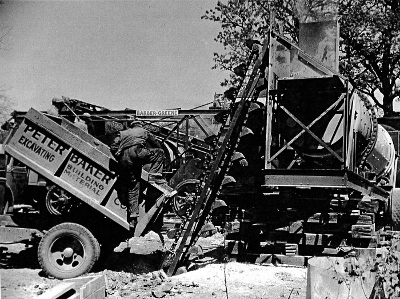 Founded in 1915 by Peter Baker and his son Arthur Baker Sr. as a roofing business, the company is currently under the control of 4th generation brothers Art and Rob Baker.
With asphalt production facilities located in Lake Bluff, Lakemoor, Marengo and North Chicago, Illinois we are able to service all of Northeastern Illinois including Lake, McHenry, Cook, DeKalb, Kane, DeKalb and Boone Counties.
We are committed to producing quality materials, and providing quality construction services by our team of experienced and dedicated personnel.
Affiliations


Awards
ISTHA
Bituminous Concrete Pavement Award – 2001
Tri-State Tollway - Roadway Widening & Reconstruction at Deerfield Road
LCDOT
Butterfield Road Widening – 2003
Butterfield Road Widening – 2007
Peterson Road At Rt. 60 – 2011
IDOT
US Rt. 41 from Edens to West Park Ave – 2002
US Rt. 14 from Rt. 23 to Bunker Hill – 2013
US Rt. 41 from Rt. 21 to IL/WI state Line - 2015
NAPA
Diamond Plant